Buffalo Chicken Dip Ring. Howdy anyone, at this juncture I'm going to share together with you Buffalo Chicken Dip Ring meals who are pretty simple to make.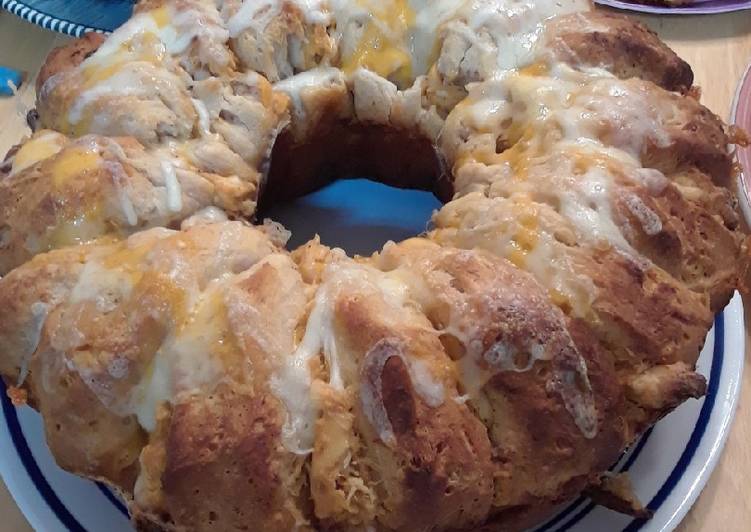 You can have Buffalo Chicken Dip Ring using 13 ingredients and 6 steps. Here is how you achieve it.
Ingredients of Buffalo Chicken Dip Ring
It's 2 tbsp. of unsalted butter, softened to room temperature.
You need 1/4 cup of blue cheese dressing.
It's 4 oz. of cream cheese, softened to room temperature.
Prepare 1/4 cup of hot sauce (such as Franks red hot).
Prepare 1/2 tsp. of each chili powder, cumin, smoked paprika.
It's 1/2 tsp. of each garlic powder, onion powder.
Prepare 1/8 tsp. of salt.
You need 1 cup of freshly shredded cheddar cheese, divided.
You need 1 cup of freshly shredded mozzarella cheese, divided.
Prepare 4 slices of bacon, cooked and crumbled.
It's 2 cups of shredded chicken.
It's 2 packages (16.3 oz.) of -16 total- refrigerated biscuits.
You need 2 tbsp. of unsalted butter, melted.
Buffalo Chicken Dip Ring step by step
Preheat the oven to 350°F. Use the softened butter to grease a bundt pan and set it aside..
In a medium bowl, whisk together the cream cheese, blue cheese, hot sauce and seasonings until smooth. Then stir in 1/2 cup of cheddar cheese, 1/2 cup of mozzarella cheese, the bacon and the chicken. Stir until everything is combined..
Lay the biscuits out on a flat surface. Spoon 1 1/2 tbsp. of the buffalo chicken filling onto each biscuit. Add more to each as needed until all the mixture is used up..
Stack about 3 or 4 biscuits together, turn them on their sides and place them into the greased bundt pan. Repeat with the remaining biscuits, arranging it all into a tight ring around the bundt pan. Drizzle the two tbsp. melted butter evenly over the top of the ring..
Bake for 30 minutes, or until golden brown and a toothpick inserted into it comes out clean. If the inside isn't completely done yet, then cover the pan with foil and continue to bake until it's cooked through. Then remove the bundt pan from the oven, sprinkle the remaining cheddar and mozzarella over the top and bake for an additional 5 minutes, until the cheese is all melted..
Cool the bread ring in the pan for 10 minutes, then remove it from the pan by flipping it onto a plate, then flip it back over so the cheese side is facing up. Serve warm with some blue cheese or ranch on the side for dipping..